Fleet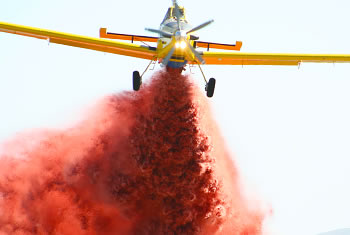 Air Tractor AT802
AGAIR's fleet of Air Tractor AT-802's are the main stay of our firebombing aircraft fleet. Carrying a payload of up to 3000 litres of fire suppressant and ferrying to a fire of 280 kilometres per hour makes the Air Tractor a very versatile and effective firefighting aircraft. Once on scene, its load of fire suppressant can be delivered in one 3 second drop or split into several drops or even trailed out over longer distances. The aircrafts on-board computer delivery system will be programmed to best suit the job then the pilot can concentrate on flying the aircraft accurately to deliver the load on target.
During the winter season these aircraft undergo a thorough maintenance check ready for the next fire season while others are utilised year round for agricultural application operations as required. Their load carrying capability and manoeuvrability make them the aircraft that suits all our low capacity firebombing spraying and fertiliser spreading operations.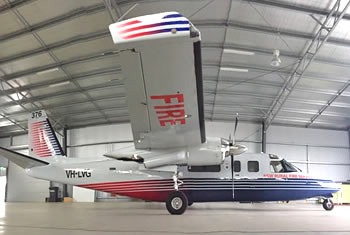 Turbo Commander
AGAIRs fleet of Turbo Commander aircraft are utilised by fire agencies as supervision platforms, primarily operating in company with Large Air Tankers such as the DC-10. Their fast cruise speed enables a rapid response to overhead an incident and once there, can loiter for many hours.
These aircraft are called Birddogs and are the platform for Air Attack Supervisors to manage all the tactical needs to ensure the safety and efficiency of the fire bombing aircraft. These aircraft are an airborne communications platform equipped with a suite of radios and specialist camera systems to ensure all parties involved are kept up to date with the incident as it progresses.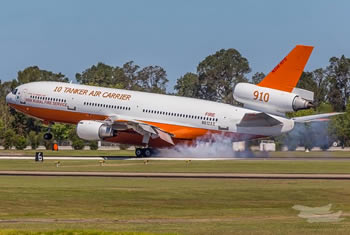 DC-10
The DC-10 aircraft have a load carrying capability of 45,000 litres of fire suppressant. Fire agencies in the US and Australia have found the heavy hitting capability of the DC-10 a crucial tool in their arsenal when it comes to managing wildfires both large and small.